The Song of the Day for Tuesday, November 13, 2012 is Body and Soul.
About Body and Soul
Body and Soul was written in 1930 with music by Johnny Green and lyrics by Edward Heyman, Robert Sour, and Frank Eyton. It was written for the British singer Gertrude Lawrence and introduced in the United States by Libby Holman in the revue Three's a Crowd. Louis Armstrong was the first jazz musician to record the song, which became a jazz standard for both vocal and instrumental recordings.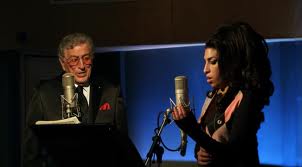 About This Version
This evening, I was finally able to watch the new documentary about Tony Bennett: The Zen of Bennett. I was quite moved by the scene with Mr. Bennett and Amy Winehouse. It was, of course, her last recording: she would be dead four months to the day after this recording was made. As an Amy Winehouse fan, I am so grateful for this segment of the film, as I believe it captures the very best of Amy and of Mr. Bennett too. They were really quite wonderful together. I know we all wish they would have been able to work together again.